GOTS – Organic Cotton Tula Kids – Flamingo 1
---
Product Details

Material:

100%Organic cotton

Width:

140 cm

Pattern size:

Width: 5 cm
Height: 12 cm

Weight (g/m²):

125.0

Colour:

white

Features:

eudermic, light

Use:

Clothing, Pillows/Throws and Blankets, Table Decoration, Curtains

Feel/Hanging:

smooth to the touch

Manufacturing:

woven

Surface:

matte

Textile finishing:

printed

Art-No:

15_50004_001_R-007

Certificates:

Oeko-Tex-Standard 100, GOTS - Global Organic Textile Standard

more details
We no longer carry this product.
Product Details

Material:

100%Organic cotton

Width:

140 cm

Pattern size:

Width: 5 cm
Height: 12 cm

Weight (g/m²):

125.0

Colour:

white

Features:

eudermic, light

Use:

Clothing, Pillows/Throws and Blankets, Table Decoration, Curtains

Feel/Hanging:

smooth to the touch

Manufacturing:

woven

Surface:

matte

Textile finishing:

printed

Art-No:

15_50004_001_R-007

Certificates:

Oeko-Tex-Standard 100, GOTS - Global Organic Textile Standard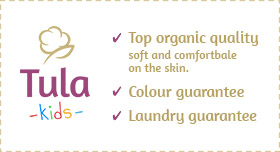 Only the best for the little ones. The appeal of the lightweight cotton fabric of our exquisitely designed line Tula Kids lies in its cute motifs and in the fact that its quality is Oeko-Tex Standard 100 and GOTS-certified. Because it is so comfortable against the skin, it is brilliantly suited to bed linen and figure-hugging clothing. Experiment with these fabrics now; they have been produced and traded in a socially equitable and environmentally conscious manner.

»
Further information on GOTS
Care Instructions
iron, steam or dry with medium heat

dryclean allowed

tumble dry, low heat

40° gentle wash