Tula Organic Cotton - Insects – beige/green - GOTS
---
Product Details

Material:

100% Organic cotton

Width:

140 cm

Pattern size:

Width: 22 cm
Height: 31 cm

Weight (g/m²):

125.0

Colour:

beige

MotivDetails:

Insects

Features:

eudermic, soft

Use:

Clothing, Throws and Blankets, Bed linen

Feel/Hanging:

soft feel

Manufacturing:

woven

Textile finishing:

printed

Art-No:

15_50011_003

Certificates:

Oeko-Tex-Standard 100, GOTS - Global Organic Textile Standard

more details
In Stock
Standard delivery within approx. 5 - 7 working days
If your order request exceeds our current stock availability, we will ship your package within 72 days
Product Details

Material:

100% Organic cotton

Width:

140 cm

Pattern size:

Width: 22 cm
Height: 31 cm

Weight (g/m²):

125.0

Colour:

beige

MotivDetails:

Insects

Features:

eudermic, soft

Use:

Clothing, Throws and Blankets, Bed linen

Feel/Hanging:

soft feel

Manufacturing:

woven

Textile finishing:

printed

Art-No:

15_50011_003

Certificates:

Oeko-Tex-Standard 100, GOTS - Global Organic Textile Standard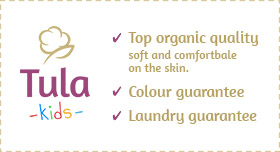 Only the best for your little one – GOTS fabrics from myfabrics.co.uk
Sustainability and eco-friendliness are becoming more and more important in the textile industry. We are well aware of this, and it's really important to us that we produce our own
Organic fabrics for children
that meet high environmental standards.
This lightweight cotton fabric with playful motifs is part of our second, lovingly-designed
organic line, Tula Kids,
part of our very own Tula brand.
About me:
GOTS certified
Comfy to wear - no scratching!
Colour-fast - no fading!

Our cotton fabrics are perfect for cosy bedding and close fitting clothing, as Tula Kids fabrics are free from harmful substances so you don't have to worry about your little one's skin.

Give our fair and eco-friendly fabrics a try!





» Further information on GOTS


Care Instructions
iron, steam or dry with medium heat

dryclean allowed

tumble dry, low heat

40° gentle wash
Reviews
There are no reviews from other users.