Children's decor fabrics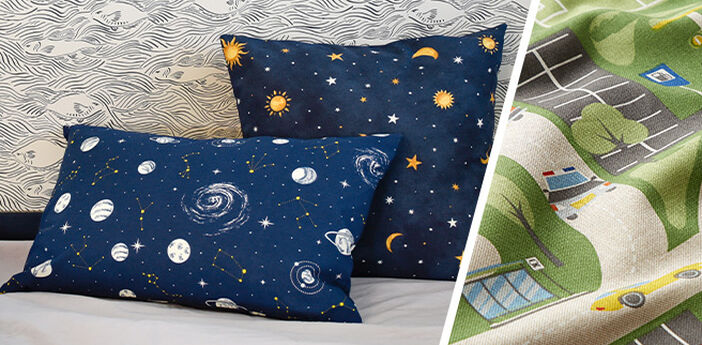 Use our children's furnishing fabrics to sew unique items for kids' rooms! You will find everything here, including robust curtain fabrics for children, cuddly fabrics, and practical washable fabrics. Take a look and find the perfect children's furnishing fabric!
You have viewed 48 of 313 products
Which fabric is suitable for which children's project?
Curtains

To make dark, heavy curtains, the ideal choices are blackout fabric or canvas and half panama. Thinner curtains or a bed canopy can be made using cotton fabrics such as cretonne or poplin.
Floor cushions and containers

For children's tents or floor cushions it is best to use more robust fabrics such as canvas or half panama. Thanks to their sturdy finish, these are also ideal for making containers, rucksacks and bags.
Nappy-changing area

The nappy-changing area is best equipped with coated fabrics These are easy to wipe clean. You can use a flannel or muslin fabric on top to make it softer and warmer.
Towels and dressing gowns

Wonderfully cosy dressing gowns, towels or face cloths can be made using terry cloth or waffle fabric. Both these types of fabric are highly absorbent. Terry cloth gives you an added snuggle factor.
Bed linen and children's decorations

The best choice for bed linen or cushions is a cotton fabric. These fabrics are also ideal for other decorations in a child's room, for example bunting or mobiles.
Cuddly items

Patchwork quilts, crawling mats and cuddly cushions are best made using quilting, fleece or plush fabrics. Muslin is wonderful for making comforters. For cuddly toys or sensory toys, you can get really creative using plush, cretonne or poplin fabrics.